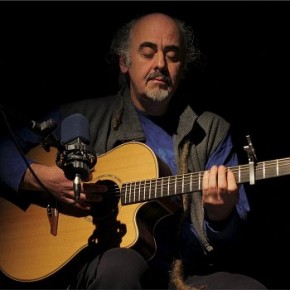 Tá áthas orainn go mbeidh Steve Cooney linn ar an árdán do Coirmcheoil na Féile ar Domhnach an Féile. We are delighted to announce that Steve Cooney will be joining us on stage for the Festival Concert that will bring an end to Féile na Laoch 2011.
Born in Melbourne, Australia, Steve Cooney started his professional musical career at the age of 17, playing for a while in the US before returning home, where he was in a number of rock bands, (Bushwackers, Fruitcake) and the successful folk/rock band, Red Gum.
In 1981 he bought a one-way ticket to Ireland, from where his ancestors had come, where he busked and worked odd jobs for a few months, before joining Stockton's Wing as bassist with whom he stayed until 1981.
Since then he has popped up all over the place, with a major contribution to Sharon Shannon's first album, and performances and recordings with Sineád O'Connor, Dermot Byrne, Altan, Martin Hayes and others.
His technique is excellent, and his understanding of traditional music and accompaniment is attested to by the number of traditional groups and albums he has contributed to. This Australian ex-rocker guitarist formed an unlikely pairing with Kerry accordion player Seamus Begley and was one of the most popular bands playing traditional dance music in the 90's.