Beannacht Dé le Tadhg – ár laoch Ealaíona 2018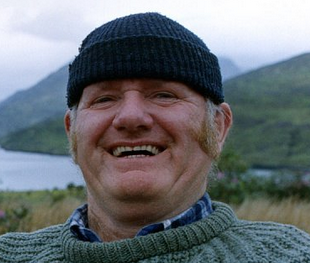 Tadhg Mac Suibhne  27/2/1936 – 1/9/2018.
'Ar m'Éirí Dhom ar Maidin'
"Dob fhearr leis an t-ealaíontóir Francach, Corot, solas breaca an lae go lua ar maidin, ná aon solas eile. Tá rud éigin a bhaineann leis an solas lua san, mar shampla, tosach an lá nua agus tosnú ar obair nua cómh maith. Bhuail an smaoineamh liom tamall ó shin taispeántas a chur le céile a bheadh bainteach leis an mhaidin, mar go raibh roinnt pictúirí agam bunaithe ar an tráth san den lá – an maidin lua suas go dtí meán lae. Níor chuireas riamh taispeántas le chéile ar anabhar seo agus cheapas go mbeadh sé suimiúil é seo a dhéanamh. San taispeántas seo, beiodh meascán de pictiúirí – pictúirí íle, pictiúirí dath-uisce agus pictiúirí cló-búala adhmaid." Tadhg Mac Suibhne Eanair 2015
Described by Con Houlihan as "one of our leading painters", Tadhg McSweeney was born here in 1936.  He is a well-travelled artist – having trained in Dublin, London and in Italy – and he has held solo exhibitions throughout the world, honing and perfecting his craft for over 50 years.  But despite the lure of the greater world, Tadhg continues to reside in the area, finding apparently endless inspiration in the natural landscapes and themes of his home surroundings. Brian Lynch writes, 'the simplicity, the stubbornness, the freshness, and the joy he finds in nature are facets of an ongoing self-portrait, expressions of the soul of an original artistic personality.  He is in the tradition of Irish genius, but there is no genius like him. Tadgh McSweeney is unique'.
Dhein Dónal Ó Céilleachair, an scannán "Tadhg McSweeney. Painter – A Film Portrait", ar Thadhg i 2017
This film is an intimate portrait of a unique Irish artist, who continues to find extraordinary beauty in the absolutely ordinary, while illuminating a whole other way of looking at the world around us, in the process. The film features music by Fiona Kelleher, Caomhín Ó Raghallaigh, 3Triúr and Peadar Ó Riada.
Self Taught Artist Attended National College of Art Kildare st. Dublin 1959 – 60., and later studied etching, silk screen printing, etc. in London.
I paint mainly in oils and watercolour, with occasional fresco work.(studied fresco in Italy 1984 – 85;-the "Fresco Buono"technique of painting on wet lime plaster using pigments and water only).
Am a figurative painter, work includes : landscapes, urbanscapes, seascapes, still-​life, portraits, etc. as well as murals (fresco). All my work is of something I've recently experienced – inspiration comes from the environment as I experience it and I prefer to work from memory, using pencil sketches. This method gives me the freedom to express my original vision without being impeded by irrelavent details;- I can focus on the essentials of the particular vision and experience. The only exception to this is portraiture as I need to work directly from the subject.
I am interested in exploring the language of painting in itself (in various painting media and print media), in seeking the fullest range of possibilities in that language, and not merely limit myself to one aspect of that language, such as abstraction or illustration, both valid in themselves, but yet merely aspects of an universal visual language, that includes all possible visual experience. Scale is important to me, each subject "demands" its' own size and scale. A particular theme will not "work" at a different size or scale. Also it seems to me that the seeming banal and trivial is, and can be, as valid a subject as the most profound. Colour is also very important to me. It is a language in itself, only now being gradually explored by artists and scientists.
Though I work mostly in oils and watercolours, I also work in various print media, including woodcuts, silk-​screen printing, etching, etc., and am at present designing a visual book (limited edition) using modern print technology. Recently I began painting with acrylics again, after some years not using them as a paint medium — I usually use acrylics as a medium for making water-​based silk-​screen prints. I sign all my work with my Irish Signature T. McSuibhne.
I have always been interested in printmaking, and and do limited editions of woodcuts, etchings and silkscreen prints. (Am now in 2012 changing from traditional etching methods to electro-​etching, which is toxin-​free. Also am changing to water-​based inks for screenprinting, as solvents used with oil-​based inks are now considered a health hazard).
I sometimes paint frescoes — a medium I first began using in 1985, and which is also one of my favourite media. Fresco is a process of painting on wet lime plaster, using pure pigment mixed with water only.The pigment becomes an intergal part of the plaster — this differs from other forms of painting, where a layer of pigment mixed with a medium is painted on a primed surface. I have included some Frescos in the Watercolour section, from occasional frescoes I have painted. To me, both media though very different, have a similiar "look" and "feel" — both have the same freshness and luminousity and vitality of colour etc.
I am at present (2012) living and working in the countryside,but also am inspired by urban themes and the sea etc. Light to me is the key to painting, and if I move to another locality, it may take a day or two to adjust to the light in that place, and only then can I paint in that place.
I have come to regard the creation of works of art as a form of research into the visual experience of the world. That is the view of the scientist in me, but there is also the poet (in me and in everyone), and all forms of visual art are the equivalent in visual terms of poetry and music. They are also, of course, unavoidably expressions of the artist's present (at the time of their creation) emotional/psychological state and the state of the world. They may even have elements of prophecy in them, for the artist is unconsciously picking up what lies ahead.
I think integrity is, perhaps the most important trait in an artist — being true to one's own vision regardless of everything is the only way the work can have validity or meaning — otherwise the work is only the echo of someone else's work, and one becomes only the shadow of somebody else.
If I may quote Emerson : "Nothing is at last sacred but the integrity of your own mind".
Previous Exhibitons, Awards, etc.
From

1965

onwards : several one-​person exhibitions, as well as group shows, including

RHA

, Oireactas Art Exhibition, Group

65

, Independant Artists etc.

1975

 — Cork : one person exhibition.

1983

 — San Francisco : one person exhibition.

1986

to

1990

 — Lived and worked in London : had two one-​person exhibitions there in that period.

1990

 — Hamburg : one-​person exhibition.

1991

 — Dublin : one-​person exhibition.

1992

 — Eigse Carlow : Claremorris Open Exhibition,won special category award at Arnotts Portrait competition.

1996

 — Dublin : one-​person exhibition.

1999

 — Dublin : one-​person exhibition.

2000

 — Dublin : Art Fair.

2002

– Painted fresco at famine memorial Carrig a'staigre.

2008

 — Killarney : one-​person exhibition at McBride gallery (

18

th April-​

19

th May)

2011

  — Carrigaline, Co. Cork, Ireland. — "Odyssey", one-​person exhibition at the Framemaker gallery, Carrigaline (

20

April — 

7

 May,

2011

)

2011

 — Macroom, Co. Cork, Ireland, — "Radharc", One-​person exhibition in Macroom Town Hall (courtesy of Cork Co. Council and Macroom Urban Council),

8

 – 

29

 July.