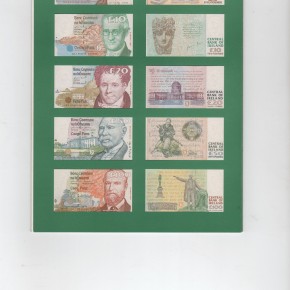 Tá Robert (Bobby) Ballagh imihe i bhfeidhil an tógra ata ag Féile na Laoch chun nótaí nó piosa airgead   "An Laoch" do dhearadh.  Beidh sé seo da fhógairt againn le linn an deire seachtaine  deirneach do Feile na Laoch 2011 – an 30/9/2011 – 2/10/2011
Tá Cáil ar Robert Ballagh mar ealaíontóir idinaisiúunta agus dob' é a dhein dearadh ar na nótaí airgid deirneach a bhí againn sa tír seo.
Beidh 100 liudramán sa "Laoch".
Tá pléadh doimhin ar siubhal faoi i láthair nma huaire agus mar thosach, táimíd ag súil len' é úsáid mar 'token' chun lascainne speisialta ar earraí a eagrú i siopaí agus gnóthluchtaí áitiuil.  Beidh sé mar cuimhne ar Feile na Laoch 2011 agus arís i 2018 nó gach seacht mbliana.   Beidh sé mar foinse agaon chun airigead a bhailiú leis don ciste.  Ach i gcás fíor neamhchoitianta go dteipeadh airgead mar a bhfuil aithine againn ar, bheadh córas airgidis ar an seilf againn in Iarthar Mhúscraí!
Robert Ballagh has been put in charge of designing a new currency,  a Féile na Laoch project, that will take the name of "An Laoch".  An Laoch will be introduced at the second weekend of Féile na Laoch 2011. (30/9/2011 – 2/10/2011)
Robert Ballagh is a famous international artist and is responsible for designing the last currency we had in Ireland before the Euro was introduced.
An Laoch will consist of 100 'Liudramán'. We are hoping to use this currency as a 'token' to get a reduced price on certain goods and in certain local businesses. It will serve as a memory of Féile na Laoch 2011 and again in 2018 or every seven years. It will also be a means for the committee to collect money for the coming festivals in years to come. But in the rare case  that money/currency as we know it would somehow fail in this economy, we would have a money system on the shelf in west Muskerry.