Saturday 30th of July, 4p.m. Ceolchoirm/Concert, Séipeál Chúil Aodha (Cúil Aodha Church) . Free entry.
Saturday 30th of July, 7.30pm. Vespers, Maynooth College Chapel Choir. Séipeál Chúil Aodha.
Sunday 31st of July, 11a.m. Seán Ó Riada Aifreann 1. Live broadcast on raidió (RnaG) and available worldwide.
Cór Chúil Aodha: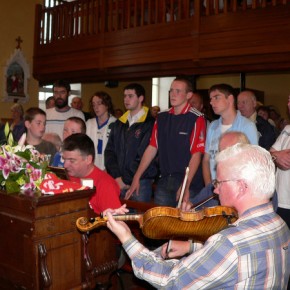 Bunaíodh Cór Chúil Aodha sa bhliain 1964.   Nuair a bhí Seán Ó Riada ina chónaí i ngaeltacht Chorca Dhuibhne 1 1962 d'eirigh sé ana cháirdiúil leis an t-Athair Donnachadha Ó Concubhair a bhí mar shagart cúnnta i mBaile Mhuirne ag an am.   Nuair a' dheigh Seán i mbun oibre i 'nOllscoil Chorcaighe, bhog sé chun cónaithe i gCúil Aodha.  Bo ghairid ón mball seo áitreabh a mháthar agus bhí gaollta agus cáirde leis ag maireachtaint sa cheantar.  Duine acu seo gan dabht ab ea an t-Athair Donnachadha.    Is tímpeall an ama seo , chomh maith, a bhí torthaí Comhairle Bhaiticeánach a Dó ag teacht chun soilis agus bhíodh Donnachadha ag scoraicht sa Draighean (tigh Sheáin) 'sna tráthnóintí go riallta.   Bhíodh pléadh ar na scéalta seo aneas ón Róimh.    Bhíodh pléadh eile ar siubhal i dtaobh na paidreacha dúchais sa cheantar agus áit an cheoil i litúirge na ndaoine.
Ní fhacasa m'athair mar dhuine cráifeach riamh roimis sin agus go deimhin is í mo mháthair a thugadh chun Aifrinn sinn.   Hugenoet ón Iodáil ab ea a máthair siúd agus do togadh í i dtraidisiún na paidireorachta príomháidigh.   Ach nuair a chuir m'athair an suim sna nithe seo bo ghairid an mhaoill gur bhunaigh sé Cór Chúil Aodha.   Bhíodh mnáibh ag amhránaíocht san séipéal roimis sin.  Ócáidí ar nós beathnacht don Naomh Shacraimint is mó a chuirfeadh chun ceoil iad.   Ach chuir Seán agus Donnachadah deireadh, gan taise, len' a réim agus ní raibh le bheith sa Chór nua seo ach fir nó buachailí amháin.    Bhailíach na baill sa Draighean agus bo ghairid go raibh dánnta diaga ar nós "Mo Ghrádhasa mo Dhia" agus "Gile mo Chroí" dá channadh acu aimsir chomaoineach.    Bhíosa mar gharsún sa Chór agus bhímís go léir bailithe tímpeal m'athair agus an harmonium san Ailéir le linn  aifrinn.   Bhíodh m'athair ag aifreann gach Domhnach anois.    Tar éis aire do thabhairt don Comaoineach do tugadh faoi Iomann don Ófráil agus ansan 'sea chuir m'athair ceol leis an phaidir sin "Ag Críost an Síol".    Leann dán diaga eile don Comaoine "A Rí an Domhnaigh" agus ansan roghnaigh Seán agus Donnachadha dhá phaidir traidisiúnta a  bhí ag Tadhg Ó Muláin chun tosach agus deireadh do chuir leis an Aifreann.    Comharsa do b'ea Tadhg le Seán agus bhí saibhreas agus stór mór seanachais aige – ina 'measc bhí ann chuid paidreacha.   Anois go raibh an Introit agus Exeunt cúmtha bheartaigh Seán agus Donnachadha gurb é "An Phaidir" nó an "Ár n'Athair" an céad píosa eile go bhféadfaí tabhairt faoi.   Bhí sé seo le bheith ráite i dteanga an phobail anois ar aon chumadh agus teanga na Laidine ag cúlú as clos na ndaoineadh.
Ar ndeodhain bhí amhráin chráifeacha laidine dá gcanadh ag an gCór faoin dtráth seo chomh maith.  Dánnta ar nós an "Pange Lingua", "Tantum Ergo",  "O Salutares" agus mar sin de.
Pé scéal é do chuir Seán ceol leis an Phaidir agus do lean ceol don Kyria nó "A Thiarna Déan Trócaire" agus "An Ghlóir".    Nuair a bhí ceol leis an Agnus Dei nó "A Uain Dé" bhí ceol le gach píosa oiriúnach den Aifreann agus bhí "Ceol an Aifrinn mar a canntar i gCúil Aodha" tagaithe ar an saoghal.
Cé go mbíodh sé dá chanadh gach Domhnach i gCúíl Aodha níor canadh i Magh Nuadht é go dtí an bhliain 1967.  Dob' é an t-Athair Tomás Ó Fiach (Ollamh Staire i Magh Nuadht ag an am agus cara eile de chuid Sheáin) do léigh an Aifreann úd agus do chan sé páirt an tsagairt don gcéad uair oir níor ghéill an t-Athair Donnachadha go raibh guth cannta aige riamh agus dob iad na buachaillí óga sa Chór do chanadh leithéidí an "A Thiarna dean Trócaire".
Is cuimhin liom an gliondar a bhain leis an ócáid.   Bhí an console den orgán i mbolg an tSéipéil an uair sin cé gur árd thuas oscionn an áiléir a bhí na píobáin.  Is cuimhin liom gur chodail ball amháin den gCór ináirde ar chofra seo na méarchláir faid a bhí m-athair ag seinnt agus sinne bailithe tímpeall orthu ag canadh.   Nuair a bhí an t-Aifreann thart agus a chuid éadaigh bheannaithe caite dhe aige is cuimhin liom go dtáinig an t-Athair Tomás ag rinnce síos an tséipéil agus buidéal mór fuiscí 'Phaddy" ina bhachalainn aige.  Cé nách ró chiallmhar a bhíos féin an uair úd do thuigeas fós gur ócáid mhór ceiliúradh agus gliondar a bhí tar éis titim amach.
Dhá bhliain níos a dhéanaí is ea taifeadadh an Aifreann a hAon seo.    Thárlaigh sé seo i Séipéal na nDominiceánach i dTallacht Bhaile Átha Cliath.    Arís b'é Tomás Ó Fiach a cheiliuraigh an Aifreann agus cúnamh aige.   Ach is cuimhin liom aighneas bheag chomh maith.  Bo léir nár insigh m'athair do Chór na nDominiceánach go raibh Cór Chúil Aodha ag tógaint an sway óna gCór mannach féinig.     Bhí cúpla píosa breise cúmtha aige chomh maith a bhí i leabharán na nDominiceánach nách raibh ag an Cór Chúíl Aodha.   Nílim ró chinnte ach chomh beag an raibh sé soiléir roim ré gurb é cara Sheáin – Tomás, a bheadh ag léamh an Aifrinn.   Is cuimhin liom go raibh neomataí teasaí idir shagairt agus córacha díreach roim tosach an Aifrinn.    Bhí Tomás deimhnitheach go raibh seiseann ag canadh an "A Thiarna dean Trócaire"  ach má bhí bhí Dominiceánach bocht tar éis bheith ag cleachtadh an ceol céanna le díógras ag ullamhú don ócáid.   Chann Tomás agus is é atá sa taifead.  Ach má éisteann sibh leis na taifid tabharfaigh sibh faoi ndearadh gur guth eile – guth Dominiceánach (Ciarraíoch ó Uibh Ráthach más buan mo chuimhne) a chann an cúpla line nua chumtha agus gurb iad an Cór Dominiceánch d'fhreagair iad mar nách raibh na linnte seo ar eolas ag Cór Chúíl Aodha.
Chaith m'athair pheireadh spéaclaí gréinne i rith an Aifrinn ar fad in aindeoin gur dhein mo mháthair tréan iarracht iad do bhainnt de.   Bhí Roibeárd Mac Gabharáin ann ag coimead súil ar an dtaifead thar cheann Ghael Linn.   Cara eile de chuid Sheáin agus  Ruth (mo mháthair) ab ea Roibeárd.   Bhí aithinne acu ar a chéile ó blainnta Ollscoile i dteannta a chéile i gCorcaigh.   Bhí Roibeárd páirteach i mór chuid de shaoghal phoiblí m'athair agus bhí san fíor ar an ócáid seo chomh maith.  B'é Roibeárd a thug Roinn Céirnín Ghael Linn ar an saoghal agus a chothaigh agus a d'fhorbraigh é chun foirfeachta idirnáisiúnta.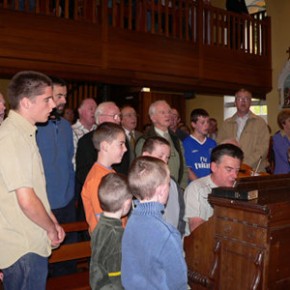 Cór Cúil Aodha was founded in 1964.  When Seán Ó Riada was living in the West Kerry gaeltacht of Corca Duibhneach during 1962 he became very friendly with an t-Athair Donnachadha Ó Concubhair who, at that time, was curate to the Cork gaeltacht parish of Baile Mhuirne.  When Seán took up his new position as music lecturer in University College Cork he moved his household to live in Cúil Aodha which was in the parish of Baile Mhuirne.   This move was a homecoming as his mother was born and reared in the neighboring parish of Cill na Martra and indeed her maternal antecedents came from Cúil  Aodha.     Thus there were many relations and friends already living in the area.   One of these friends of course was Donnachadha.  About this time also, the second Vatican Council's deliberations were being discussed and disseminated.  Donnachadha and Seán had a habit of spending the evening in convivial conversation in An Draighean – the O Riada home.   There was much interest in the stories coming north from Rome.   Another topic under regular inspection was that of the traditional prayers of the area, local spirituality and liturgical music of the time. I had never seen my father as a prayerful person and indeed it was my mother who would ensure our observance of our Irish Catholic Creed.   My mother's mother was an Italian Huguenot and practiced a more private form of observance.  But when my father became interested in this facet of life he soon formed the Cúil Aidha Choir.
Women had provided the singing in the local church hitherto fore.   Their music could be heard at occasions such as benediction.  Bt Seán and Donnachadha rapidly put an end to there tenure and decreed that the choir would be made up of men and boys.
The members of this choir would meet weekly in An Draighean and started out with traditional hymns for use at communion time.  These included such songs as "Mo Ghrádhasa mo Dhia" and "Gile mo Chroí".
I was a nine year old boy at the time and we would all collect around my father and the harmonium up in the gallery for Mass.   My father attended Mass every Sunday from then on.
Having sorted out a repetoir for the communion time the Ofetory was the next item.    My father and Donnachadha choose s poem called Ag Críost an Síol" and,  as was Seán's custom, he composed new music to set to the text. Another traditional religious poem followed for communion use.  This was  "A Rí an Domhnaigh".   Seán and Donnachadha then chose to traditional verses recounted to them, by our neighbor Tadhg O Muláin that then became the Introit and Exeunt.   Tadhg was married to Betty Horgan and both of them, but Betty in particular, filled many pages for folklore collectors in the 1940's and 1950's.
Now that all the usual "bits" of the Mass had been looked after musically,  Seán agus Donnachadha decided that "An Phaidir" or Pater Noster, should be the next musical piece.  This was now to be said in the vernacular language rather then the retreating Latin language in use.   I remember a particular argument going on as to the Irish language version of the Pater Noster to be used.    In Cúil Aodha we always said "Agus maith dhúinn ár bhfiacha, mar mhaithimíd do chách 'chionntaíon 'nár n'aghaidh" but official church translators from Maynooth decreed that this should be "Agus maith dhúinn ár bhfiacha mra mhaithimíde dár bhfeichiúna féin."   As we all now know my father had to row in with the modern version or the words.  The music was composed.   Of course Latin hymns were also being sung as usual.   Verses such as the Pange Lingua, "Tantum Ergo",  " O Salutares" and so on.
Having dealt with the Pater Noster or Ár n'Athair the Kyria or "A Thiarna dean Trócaire" came next, followed by the Gloria or "An Ghlóir".   When music had been set to the Agnus Dei or "A Uan Dé"  the mass as sung in Cúil Aodha had arrived.
Even though this mass was sung every Sunday in Cúil Aodha, it was not heard in Maynooth until 1967.   An t-Athair Tomás Ó Fiach (History professor at the time and another friend of Seán's) read that Mass and he also sang the priests lines which was a fiorst also as Donnachadha would never admit to having any note of music in his head and it was us young bots who sang the Kyria, and such, in Cúil Aodha.
I remember the occasion to be a happy exciting experience for all.   The organ console was actually in the body of the Maynooth church while all the pipes were high up in the gallery.   One member of the choir succeeded in sleeping through the whole affair, stretched out on top of the console, while my father played and we stood gathered around singing.   When mass was ended, Tomás disrobed and danced down the aisle with a big bottle of Paddy Whiskey to celebrate the occasion.  Young and foolish though i was i still was very aware that something great had been accomplished and celebrated.   The Mass was once again being sung in the peoples vernacular and our own language, the Irish language, was to the fore again.
The Cúil Aodha Mass was recorded two years later.   This time the occasion was in Dublin's Domincan Priory in Tallaght.  Again Tomás Ó Fiach was the celebrant – with assistance.   I remember that some ruffled feathers were around as the Dominican Choir had been diligently practicing the music but they appeared not to have been informed that we would also be singing.    The fact that Tomás was determined to sing the celebrants lines was also a bit of a shock to them.   They had spent a lot of time rehearsing and had picked their own soloists and we blithely rained all over their parade.    However they trumped us as Seán had set music to the short prayers and answers leading into the "Prefáid" and we had never heard this.   Neither had Tomás.  So you can hear them singing these lines on their own in this recording.    If I remember correctly, I believe their soloist was a Kerryman from Uibh Ráthach.   They were nice gentle people and I am glad that they can be heard on this recording.
My father wore sunglasses, in the church, during the whole affair and my mother was not amused by this action.   Roibeard Mac Goráin from Gael Linn was also present.  Roibeard was another friend of my father and mother Ruth.   They had met while attending University College Cork.    Roibeard was party to many of my fathers public appearances during his life.  Gael Linn's record Department was Roibeard's 'baby' and he brought many good musicians and singers to the publics ears, both here in Ireland and around the world.
Peadar Ó Riada
Maynooth College Chapel Choir: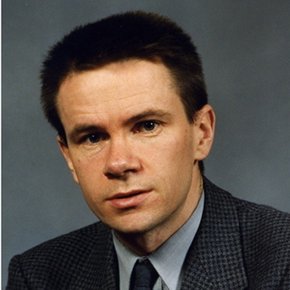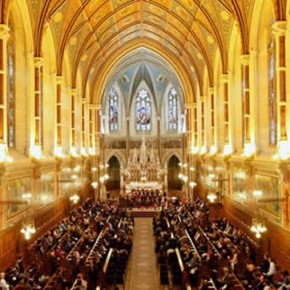 John O'Keeffe is Director of Sacred Music at the National Seminary of St Patrick's College Maynooth, and director of choral groups at the National University of Ireland, Maynooth. Previous musical appointments saw him occupy the positions of organist and choirmaster at St Mel's Cathedral, Longford, and of organ scholar at Westminster Cathedral and Dublin's Pro-Cathedral, and his organ teachers have included Rev Frank McNamara, David Sanger, Ben Van Oosten and Gerard Gillen. He has appeared as a guest soloist with the National Chamber Choir and the NSO and he contributes regularly to recital series throughout the country. He holds Master's degrees in Organ (NUIM) and Chant Performance (UL) and was recently awarded a doctorate by the NUI for his thesis on the liturgical output of Seán and Peadar Ó Riada. In 2004 he was invited to direct the Belgian Académie de Chant Grégorien Summer Course at Warnach, and in 2005 he was Guest Director at the Irish Church Music Summer School, held at Maynooth. He is involved in the administration of postgraduate and diploma courses in liturgical music and chant at both St Patrick's College and NUI Maynooth, where, in collaboration with Professor Gerard Gillen, he helped establish the Maynooth Chamber Choir (1987) and, more recently, the Maynooth Schola Gregoriana (2001).