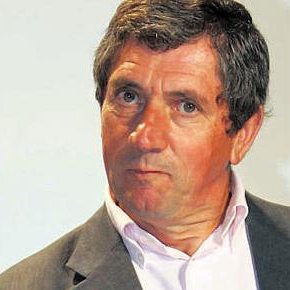 Charlie Bird was born in Sandymount, Dublin in 1949. He was recruited into RTÉ by Eoghan Harris in the mid 1970s.
For many years in the 1990s, Bird was the only point of contact between RTÉ and the Provisional IRA. He witnessed at first hand the ceasefires and the subsequent twists and turns of the peace process. In 1998, Bird and his colleague George Lee broke the story about tax evasion at National Irish Bank.
On the international front, Bird reported on both Gulf Wars and was in Syria for the release of Brian Keenan. He was awarded an honorary doctorate from University College Dublin in 2002.
Bird was attacked during the Dublin Riots of 25 February 2006, suffering a fractured cheekbone, soft tissue damage and bruising. He later spoke of his personal experience – and of the way the attackers knew who he was and called him an "Orange Bastard" – on RTÉ News broadcasts later that evening. His attack was witnessed by Sunday Independent journalist Daniel McConnell who reported on the event the next day. Bird's appearance on the six o'clock news was criticised by the Sunday Times in its edition the following day, as it felt Bird makes himself the story. In 2008, a man pleaded guilty to violent disorder and assaulting Bird.
He presented the 'Charlie Bird Explores' series in 2006, 2007 and 2008. In this collection of documentary programmes, he visited the Amazon, the Ganges, and the Arctic.
On 7 October 2008 it was announced he was to take up the post of RTÉ News and Current Affairs Washington correspondent. His first report as Washington correspondent was on RTÉ News:Nine O'Clock about US Airways Flight 1549. RTÉ received 30 complaints after he "failed to wear a suit and tie" on RTÉ News: Six One during coverage of the death of Ted Kennedy.
Bird provided coverage from the 2010 Haiti earthquake in January 2010. A two-part documentary about his first year in the United States was broadcast later that month on RTÉ One. In it he spoke of his "madness" in moving to the country and his lack of contacts and recognition in Washington DC. At the end of the second programme, he announced he would vacate his Washington post. Early viewing figures suggested that the two programmes got viewing averages of 473,000 and 563,000 people. RTÉ cited Bird's "popularity" when asked about the large audience.
Bird returned to Ireland to take up his previous job of Chief News Correspondent with RTÉ in June 2010. He covered a high profile leadership challenge of Enda Kenny on his return. The Washington role was filled by Richard Downes. During August 2010, Bird presented The Marian Finucane Show.