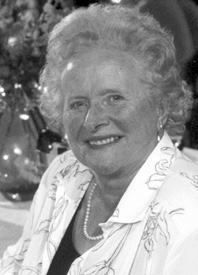 Unanimously ranked among the finest singers ever to emerge from Scotland, Flora MacNeil MBE has been a vital force throughout the revival of Gaelic music that began after World War II, and continues to thrive today. Heiress to a vast treasure-trove of ancient ballads and work-songs preserved through generations of her family, she spearheaded the rescue of Gaelic singing from the Victorianised, pseudo-classical straitjacket that was threatening to strangle it, and brought it to the world in all its original, unadorned glory.
Flora was born in 1928 on the island of Barra, one of Gaelic song's most important strongholds. There were singers on either side of her family, but this was a time when the menfolk were often away at sea for long periods, leaving the women to raise the children and tend the croft – singing all the while, to assuage their labours – and most of Flora's repertoire was passed on through her mother, Ann Gillies.
In these pre-television days (Flora's family didn't even have a radio until the 1950s), ceilidhs with the neighbours were a regular occurrence in the MacNeil household, and from earliest childhood she remembers "soaking up" literally hundreds of songs, as if by osmosis. Clearly, the music was in her blood: by age four, famously, she was already tackling the sophisticated poetry of "Mo Run Geal Og" ("My Fair Young Love"), one of the greatest of the "Orain Mor", or "big ballads".
Following in the footsteps of countless young islanders before her, Flora left her beloved Barra in 1948 to find work in Edinburgh. The wealth of songs carried in her head soon began to find a public platform in the burgeoning round of ceilidhs and concerts that marked the first stirrings of the Scottish folk revival. These brought her to the attention of Hamish Henderson, who recorded her singing as part of his landmark 1950s collecting project with Alan Lomax. He also invited her to perform at the inaugural Edinburgh People's Ceilidh in 1951, an event whose seismic repercussions, in bringing live, authentic, traditional Scottish music to an international audience, are still being felt today.
Since then, Flora has sung on many of Europe and America's most illustrious stages, mesmerising audiences everywhere with the strength and sweetness of her voice, her profound interpretative empathy, and her magically subtle handling of ornamentation. She has also recorded two classic albums, Craobh nan Ubhal in 1976 (reissued in 1993) and Orain Floraidh in 2000. One of the last true carriers of a living oral tradition, she has not only inspired growing numbers of talented successors – every contemporary Gaelic singer from Karen Matheson to Julie Fowlis cites her as a formative influence – but helped to shape the very musical context in which their careers have flourished.