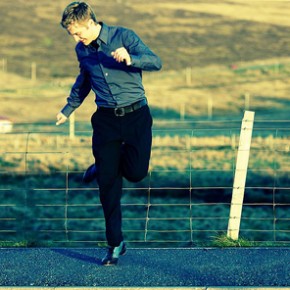 Nic Gareiss has studied a broad variety of percussive movement forms from around the world.  At age eight he began taking tap lessons with Sam Williams at Vision Studio of Performing Arts in Mount Pleasant, Michigan.  Soon after, he was exposed to fiddle music and traditional dance at the Wheatland Music Organization's annual Traditional Arts Weekend.  It was there that he had his first instruction in Appalachian clogging with Michigan dance mentor, Sheila Graziano.  As a teenager, Nic also studied Irish step dance with John Heinzman, T.C.R.G., Appalachian flat-footing with Ira Bernstein, English clog-dancing with Sheila Graziano, Québécois step dance with Benoit Bourque and improvisation and composition with Sandy Silva.
In 2001, Nic began an educational relationship with the internationally recognized company, Footworks Percussive Dance Ensemble.  After meeting Footworks' director, NEA Choreography Fellow Eileen Carson at the Augusta Heritage Center dance camp, Nic was invited to spend nine weeks apprenticing with the company in Annapolis, Maryland.  While working with Footworks, Gareiss danced in their evening-length theatre show, Incredible Feets as well as two collaborative works: SoleMates, with StepAfrika and The Crossing, with Grammy-winning recording artist Tim O'Brien.
In 2007, Nic spent a year studying traditional Irish music and dance performance at the Irish World Academy of Music and Dance in Limerick, Ireland.  During that period, he studied Cape Breton step dance with Mats Melin as well as Irish dance and choreography with Orfhlaith Ni Bhriain, T.C.R.G, A.D.C.R.G.  He also partook of individual master classes and workshops from contemporary dance artist and Irish dancer Colin Dunne, tap dancer Tarik Winston and sean-nós dancer Seosamh Ó Néachtain.
Nic has performed as a featured soloist with The Chieftains, Solas, Dervish, Gráda, Téada, FIDIL, Le Vent du Nord, Dr. Anthony Barrand, Liz Carroll, Martin Hayes, Bruce Molsky, Darol Anger and Alasdair Fraser.  His dancing has been seen on CMT in Uncle Earl's music video, Streak O' Lean, Steak O' Fat, and also on Ireland's RTÉ 2 in the film Unsung, commissioned by the Irish Arts Council, which premiered during the Dublin Dance Festival, 2008.
Nic continues to study and seek out new forms of floor-music and shoe rhythms, recently studying flamenco with Felipe de Algeciras in Dublin and American vernacular percussive dance with Rhythm in Shoes founder and artistic director Sharon Leahy of Dayton, Ohio.  He has performed for the Irish head of state, An Taoiseach Brian Cowen and American Energy Secretary Steven Chu.
Nic has taught workshops in percussive dance techniques, American clogging, musicality and improvisation internationally.  For several years, he has had the pleasure of teaching at Alasdair Fraser's Valley of the Moon Scottish Fiddle Camp in northern California, as well as for Scottish Culture & Traditions Organization and the North Atlantic Fiddle Convention in Aberdeen, Scotland.  Through workshops Nic seeks to remind musicians of the crucial, intrinsic and historic place that percussive dance has held in the formation and development of fiddle traditions as well as reminding dancers of the innate musical capabilities of movement and the social responsibility they hold in maintaining fiddle and dance symbiosis.
Nic holds degrees in anthropology and music from Central Michigan University and is pursuing post-graduate work in ethnochoreology at the University of Limerick.