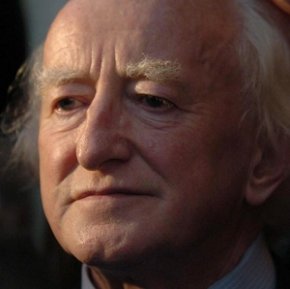 Michael D. Higgins has had a multitude of labels attached to him – politician, orator, philosopher, human rights activist, and now presidential candidate. But it is especially for his gift of poetry that we welcome him to Féile na Laoch.
Michael D. was born in Limercik seventy years ago, and commented that while he had a happy childhood nevertheless his early separation from his parents had a lasting impact on him and is still a direct influence on his poetry. It was during his first job as a clerk with the ESB in Galway that he began writing, and he was able to attend college as a mature student thanks to a benefactor impressed by his capabilities. While at UCG he he became very active in student life, winning scholarships, becoming president of the student council, and even he became chairman of the Fianna Fáil cumann at the college.
It was the great reformer Noel Brown who asked Higgins to join the Labour party in the 1960s, and during his time in the public sphere he has been a consistent voice for Irish arts and culture. As Ireland's first full minister for arts and culture he greatly improved support for the arts and had a central role in establishing TG4.
He is also well-known for his activism in demanding justice for the oppressed around the world, and is no stranger to such areas as the Middle East in his quest for conflict resolution. In 1992 he became the first recipient of the Seán McBride International Peace Medal of the International Peace Bureau for his work for human rights.
He has published three collections of poetry, The Betrayal (Galway, Salmon Publishing, 1990); The Season of Fire (Tralee, Co. Kerry, Brandon, 1993); and An Arid Season (Dublin, New Island Books, 2004).