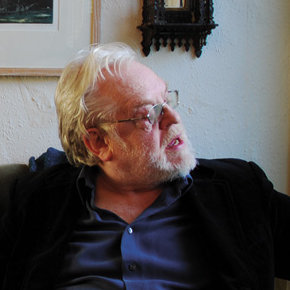 Tony MacMahon was born in 1939 and grew up in the Turnpike in Ennis. His father, PJ, came from Kilmaley, not far from Miltown Malbay, and an area steeped in traditional music and dancing. His mother played the concertina. Joe Cooley, who worked in Ennis for several years was a regular visitor to the house. Other visitors  were fiddle player Tommy Potts and pipers Felix Doran and Willie Clancy. His first accordion – with a piano keyboard – came from London, courtesy of Joe Cooley.
He went to Dublin in 1957 to study and soon made contact with Sonny Brogan and, like many a Clare exile, he was a regular visitor to John Kelly's shop in Capel Street.
In 1964 he travelled Canada and then hitched his way to New York where he walked into a bar and met Seamus Ennis, who put him up in a borrowed apartment.
"A head of light-auburn hair and a full beard to match, from which a flashing, fetching smile will suddenly radiate, atop a tall, athletically-built, young man in his prime is a cryptic description of Tony MacMahon," wrote Seamus Ennis in the liner noets for the 1972 album Tony MacMahon. "But while he is playing he seems to shed even his very presence, as though his music has taken him into another dimension and left his image and his instrument as a substitute for his audience until he has finished, whereupon one gets the impression that he is again becoming aware of his surroundings!"
According to Ennis, Joe Cooley "set afire Tony's young enthusiasm with his accordion playing. On going away from there (the MacMahon household), he had occasion to leave his accordion for safekeeping and the bould Tony then started in to play on Joe's instrument at the age of fifteen years."
Other influences were noted by Ennis. "He mentions Willie Clancy the piper, and Bobby Casey the fiddler, both neighbours and how he tried to do, on the accordion, the things they did on their instruments and so learned its shortcomings and his way around them. It was his own ear taught him most of it. One can at times hear the pipes or the fiddle in his playing – this accordion is thirty years old, hence its mellow tone and the complete absence of that stridency which is, to my ear, the hateful hallmark of the modern accordion."
While in New York, Ennis coached MacMahon on the nuances of the slow Irish songs. "He made me repeat the words over and over until I had then off by heart."
Said Ennis: "Every morning for about a fortnight he worked out his style of playing the airs I produced for him. I know of only one other accordion player who has the taste even to vary volume for theme nuances! This proved invaluable later when he hushed audiences everywhere with his evocative playing of airs like Port na bPucaiand The Wounded Huzaar".
He was introduced to the lively Irish music scene in London in the summer of 1966 on his way to Morocco. Among the places he visited was The Favourite pub  in Holloway. In fact he plays on one track – with Mairtin Byrnes and Andy Boyle, fiddles – on Reg Hall's revealing album Paddy in the Smoke.
Back in Dublin he ran sessions in Slattery's in Capel Street which later became The Tradition Club.
Around 1970 he was playing in a group called 1691 with Peter Browne, Matt Molloy, Tommy Peoples, Triona Ni Dhomhnaill, Paddy Keenan and singer Liam Weldon.
From there he moved on to Seachtar with Paddy Keenan and singers Micheal and Triona Ni Dhomhnaill. Fiddler Paddy Glackin then joined them followed by flute player Matt Molloy and then Donal Lunny. The name Seachtar is the Irish word for seven.
MacMahon left to concentrate on his broadcasting work and the others made their debut in February 1975 as The Bothy Band.
He joined Radio Eireann in 1974, producing The Long Note and later moved on to television as a producer where he will be best remembered for The Pure Drop. He introduced Clannad and many others to the TV screen and come into conflict with Comhaltas Ceoltoiri Eireann over what constituted Irish music.
"I had to bully my way into having certain people – like Micho Russell – on the programme. The content was controlled by CCE, and while we had very good musicians at the time, the ethos was that the musicians playing on RTE television should be members of CCE first, and if they happened to be good players and good singers or dancers after that, so much the better. The result of that policy is that people like John Doherty never appeared. This is a musical and archival crime for which no excuse can be found and for which no justification could exist."*
He had a hand in most of the programmes archived in the popular series Come West Along the Road. One of his earliest series involved his travels and playing with Barney McKenna in Brittany.
With fellow Clareman Noel Hill he recorded I gCnoc na Grai/In Knocknagree in Dan Connell's pub in Knocknagree, Co Cork, in 1985. Often cited as a favourite Irish music album, the music has a pulsating swing, emphasised by the set dancers battering Dan Connell's stone floor. Renowned concertina player Hill, whose preference is to perform solo, felt that the duet worked because they both came form the same part of County Clare.
His views on Irish music are passionately held. In response to a question by Gay Byrne on Irish TV about innovation in Irish music, he said that "tinsel, glitter and consumerism" were replacing the tenderness and intimacy of Irish music.
His views can also lead him into bitter controversy. In August 2009, he joined the radio row over the use of the name De Dannan by Frankie Gavin and irritated many by referring to Alec Finn as "a second-rate accompanist". MacMahon was accused in turn by Stockton's Wing member Mike Hanrahan of having "outdated and antiquated views on Irish music".
While many will oppose his strident views, few can deny his contribution to the music.